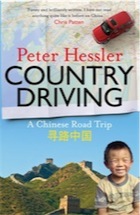 Peter Hessler, the New Yorker's man in Beijing, has been an invaluable guide to modern China in his last two books, River Town and Oracle Bones.In Country Driving, which has just been longlisted for the Samuel Johnson prize, he continues to take us to places that others never seem to reach.

...Hessler may not be from "our China", but he is an extraordinarily sympathetic and patient outsider, albeit one whose motoring expectations are constantly confounded

....The book is full of wonderful close observations, such as the hitch-hiker with a "crooked moustache that crossed his lip like a calligrapher's mistake". The broader picture is of a culture being simultaneously destroyed and created before our eyes. The decor in Wei Jia's family living room in Sancha becomes a symbol of the cultural and social mayhem. Progress has brought a motley accumulation of ornaments: a pig's fetus in a bottle, two Ming-dynasty cannons rescued from the Great Wall, a Buddhist shrine, two bottles of Johnnie Walker whisky, and pictures of a People's Army tank opposite one of the Denver skyline. The author looks around and reflects: "How could anybody hope to make sense of this world?"

We can only be grateful that we have Peter Hessler to try.