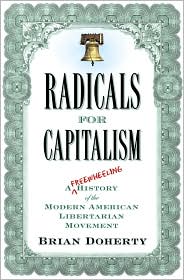 In her story "Covert Operations: The Billionaire Brothers Who Are Waging a War Against Obama," Jane Mayer repeatedly mentions Brian Doherty's interviews with the Koch brothers for his 2007 history of the Libertarian movement,
RADICALS FOR CAPITALISM: A Freewheeling History of the Modern American Libertarian Movement
published by Public Affairs, which rescues "libertarianism from its own obscurity, eloquently capturing the appeal of the 'pure idea,'" (Wall Street Journal), and includes the life stories of Ayn Rand, Milton Friedman,Ludwig von Mises, F.A. Hayek, Murray Rothbard. Brian's previous book,
THIS IS BURNING MAN
, was published by Little, Brown in 2004, and chronicles the history of The Burning Man Festival from 1995-2004. This is the story of what really happens out at Black Rock City, Nevada, out there on the playa, as told through the eyes of a participant.